---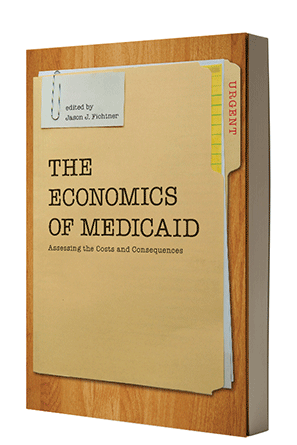 The Economics
of Medicaid: Assessing the Costs and Consequences
Top experts explain everything you
wanted to know about Medicaid—from federal-state financing to potential reforms.
Buy the Book
Purchase a hard copy of the book at Amazon or CreateSpace.
Purchase the Kindle version.
---
About the Book
Medicaid, originally considered an afterthought to Medicare, is today the largest health insurance provider in the United States. Under the Affordable Care Act, the Congressional Budget Office projects Medicaid enrollment to increase nearly 30 percent by 2024, and federal spending on the program to double over the next decade. For the states, Medicaid is already the largest single budget item, and its rapid growth threatens to further crowd out other spending priorities.
In this collection of essays, nine experts discuss the escalating costs and consequences of a program that provides second-class health care at first-class costs. The authors begin with an explanation of Medicaid's complex federal-state funding structure. Next, they examine how the system's conflicting incentives discourage both cost savings and efficient care.
The final chapters address the pros and cons of the most mainstream Medicaid reform proposals and offer alternative solutions. This book offers a timely assessment of how Medicaid works, its most problematic components, and how—or if—its current structure can be adequately reformed to provide quality care, at sustainable costs, for those in need.
---
Contributors
Joseph Antos
American Enterprise Institute
Charles P. Blahous
Mercatus Center at George Mason University
Darcy Nikol Bryan
practicing physician
James C. Capretta
Ethics and Public Policy Center
Robert F. Graboyes
Mercatus Center at George Mason University
Jason J. Fichtner
Mercatus Center at George Mason University
June O'Neill
Baruch College, CUNY
Nina Owcharenko
Heritage Foundation
Thomas P. Miller
American Enterprise Institute
---
Contents
Click the titles to download PDFs for each chapter
Introduction
by Jason J. Fichtner
Part 1: Challenges Facing Medicaid
by Joseph Antos
Medicaid's structure creates a dynamic among the states, the federal government, and medical practitioners that reduces incentives for cost savings and efficient care.
by June O'Neill
Understanding Medicaid's cost growth requires understanding its key drivers: benefit expansion, liberalization of eligibility rules, rising enrollment of high cost recipients and waste, fraud and abuse.

Part 2: Medicaid's Budgetary Impact

by Jason J. Fichtner
While the ACA significantly expanded Medicaid's beneficiaries and costs, it failed to address the program's fundamental flaws that produce conflicting incentives, high costs, and poor health care.
by Nina Owcharenko
Medicaid costs will eventually crowd out states' ability to pay for other government services.

Part 3: The Affordable Care Act and Medicaid

by Charles P. Blahous
The ACA will significantly increase future Medicaid expenditures for both the federal government and for state governments that choose to expand the program
by Darcy Nikol Bryan, MD
A physician explains her frustrations with Medicaid and discusses the need to refocus America's health care conversation on health rather than health insurance.

Part 4: Medicaid's Health Care Failures and Possible Reforms

by James C. Capretta
Successful Medicaid reform requires a fundamental transformation of the federal-state relationship.
by Thomas P. Miller
Medicaid provides second-rate care at first-rate costs. Improving this situation will require changing the incentives inherent in Medicaid financing.
by Robert F. Graboyes
The ACA's Medicaid expansion creates an additional strain on taxpayers but fails to achieve the objective of better health for low-income individuals.